Video: Cal-EEM + Grant helps homebuyers with $24,000 of energy upgrades
CalHFA's Homebuyer Education
ONLINE: eHome's eight-hour Homebuyer Education and Counseling course is the only online course accepted by CalHFA. (fee: $99) Other online courses like Frameworks are not acceptable because they do not provide a one-hour, 1-on-1 counseling follow-up session.
IN-PERSON: face-to-face Homebuyer Education through NeighborWorks America or any HUD-Approved Housing Counseling Agency
Call Toll Free 877.9.CalHFA (877.922.5432)
Ask Us
CalHFA Lending Heroes
These loan officers have helped the most homebuyers obtain CalHFA First Mortgage Loans including down payment assistance. They recognize the challenges of low to moderate income homebuyers in today's market. Most of all, these loan officers understand and specialize in CalHFA loan products and process.
Preferred Loan Officer list | Single Family Leads Program
CalHFA's 2016 Top Producers & Originators: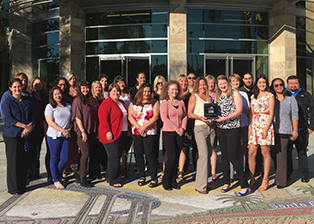 Top Producer Award: Guild Mortgage
The Guild Mortgage team accepts its Top Producer Award from CalHFA's Sharyl Silva after closing an amazing 745 loans in 2016.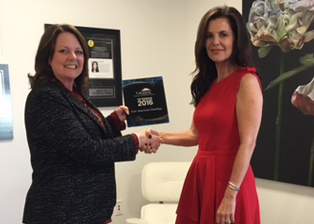 Top Producer Award: New American Funding
Patty Arvielo accepts the Top Producer Award, from CalHFA's Molly Ellis, on behalf of New American Funding, which closed a remarkable 441 loans in 2016.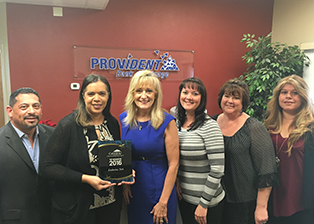 Top Originator Award: Katherine York
Katherine York, who closed 63 loans in 2016, is joined by her Provident Bank Mortgage team in accepting the Top Originator Award from CalHFA's Leanne Walker.
CalHFA Top Lending Heroes
MANUEL CORRAL, Golden Empire Mortgage, Pomona, CA
Manuel Corral is a 25 year veteran of the Mortgage Industry, and leader of the Golden Empire branch located in Pomona, California. Manuel is a perennial member of Golden Empire Chairman's Circle Award winner for the company's top producers, and has been nationally recognized as a top producer by numerous Mortgage Origination Publications. Since joining Golden Empire Mortgage in 1996, Manuel has funded over 3700 loans for nearly $1 billion.
Manuel credits his success to his belief in God, his family, and his many mentors (including Todd Duncan) and business associates. He believes in "People before Profits and Reputation before Revenue". Manuel and his team are dedicated to making a difference in the lives of their customers by delivering unparalleled service coupled with unmatched borrower fiscal education to reach their financial goals.
Email: mcorral@gemcorp.com Phone Number: (866) 468-7800
Loan Officer | NMLS ID 153224
KATHY YORK, Provident Bank Mortgage, Riverside, CA
Kathy's career in the mortgage industry spans over 31 years. She underwrote loans for 22 years, during which she held positions of regional and national credit manager. Her extensive knowledge of credit and program guidelines has enabled Kathy to achieve overwhelming success in originating loans as well.
She enjoys helping first time homebuyers throughout their first experience of purchasing a home. Kathy takes pride in the level of service she provides and enjoys overcoming challenges to ensure that more people can own their own home. If it can be done, Kathy will make it happen!
Kathy is active in her community, both professionally and personally. As a member of the East Valley Board of Realtors, sits on the Public Relations committee. Kathy has a heart for those who have not experienced home ownership. Her career goal is to see every American family own their own home. The best thank you Kathy loves to receive is a referral from that brand new home owner.
Email: kyork@myprovident.com Phone Number: (909) 641-9282
Loan Officer | NMLS ID 449980
KRISTINA HERNANDEZ, Stearns Lending, Inc., Stockton, CA
Kristina Hernandez is a Senior Mortgage Loan Originator with Stearns Lending, Inc. and has more than 15 years of experience working in the mortgage industry, beginning her career with Washington Mutual (for over a decade) before eventually becoming a part of Stearns Lending, Inc. She has expertise in local mortgage and housing markets and has kept an eye on emerging homebuyer trends, including the factors working for and against buyers. Kristina and her team take great pride in their, "We Can Help You" motto and strive to deliver excellent customer service. Kristina has been part of the Top Producers Club for the past 2 years and has been working with Cal HFA down payment assistance programs and many local community non-profits to help create awareness for first time home buyers.
When she's not working, she enjoys watching her children play sports, traveling, and coaching soccer. Kristina attributes her successful career in lending to having so many avenues for the borrower to choose a program that is custom fit for their needs. Kristina & her team are dedicated to her clients & constantly go out of their way to make your transaction go as smooth & fast as possible. Kristina feels this business is about building relationships and making her client's dream of homeownership come true.
Email: khernandez@stearns.com Phone Number: (209) 518-8277
Loan Officer | NMLS ID 225677
MICHAEL CONTENT, Summit Funding, Modesto, CA
Michael Content has over 20 years of experience in the Mortgage Industry. He focuses on providing unparalleled customer service to clients. His Team goal is to create lasting relationships with clients and build a referral based business by creating Raving Fans. The Team Core Culture is, do the right thing, do your very best and show people you care.
Michael has a passion for working with first time buyers and utilizing the CalHFA programs to make the dream homeownership a reality. He has earned Circle of Excellence and President's Club awards throughout his career. Michael is a graduate of San Jose State University with a Bachelor of Science Degree in Business.
He is a military veteran and he served on the Board of Directors for a Bay Area credit union for over 10 years. He is also an Ambassador for The Front Row Foundation.
Email: michael.content@summitfunding.net Phone Number: (209) 605-1671
Loan Officer | NMLS ID 1205657
SHERRIE FICO, Bay Equity Home Loans, Walnut Creek, CA
Sherrie has specialized in down payment assistance programs for the last 10 years of her 17 year lending profession. Her forte and passion is working with First Time Homebuyers and helping them through the lending process.
Sherrie quotes "Utilizing the CalHFA Programs definitely enables first time homebuyers, and now even non-first time homebuyers, to own their own homes with little or no money out of pocket at the close of escrow. We can often combine these programs with City programs and MCC tax credits."
She works hard to ensure complete customer satisfaction and will keep you abreast of the details during the loan process. She promises to put my years of experience to work for you.
Email: sfico@bayeq.com Phone Number: (925) 980-4046
Loan Officer | NMLS ID 264236
ALISHA SIROIS, Guild Mortgage Company, San Diego, CA
Alisha Sirois has been in the lending and Real Estate industry for over 20 years, and 14 of those have been with Guild Mortgage. She has built her team with expertly trained individuals, who are excited to work with any buyer from the inexperienced and less resourceful first-time homebuyer, to the seasoned homeowner looking to grow their wealth through Real Estate.
She quotes "We work hard to ensure our buyers enjoy the best mortgage financing experience, and are offered the best financing opportunities to fully take advantage of every benefit they are eligible for." CalHFA's cutting-edge products, and excellent service levels really help us to deliver for our clients.
Email: asirois@guildmortgage.net Phone Number: (858) 229-5399
Loan Officer | NMLS ID 223936
MISTY LEONARD, Guild Mortgage Company, Morgan Hill, CA
Misty Leonard has been in the mortgage business since 1997 and worked her way through assisting and processing loan files to a loan officer in 1999. She has extensive experience in new construction as well as resale but her passion is helping first time homebuyers realize the dream of home ownership. Misty has helped thousands of people finance their dream homes. She realizes that each loan is a relationship and not a transaction and prides herself on her commitment to her borrowers. She is part of a team at Guild Mortgage which allows the borrowers to have a contact person at all times if she is not available.
Misty loves the beach and the outdoors as well as spending time with her family when she is not working.
Email: mleonard@guildmortgage.net Phone Number: (408) 852-0196
Loan Officer | NMLS ID 439727
GENE O'BRIEN Sr., Platinum Home Mortgage, Fresno, CA
Gene is the licensed branch and loan production manager of one of the nation's largest privately-held mortgage bankers.
Gene feels his job is to help guide you through the loan process from start to finish and finding financing solutions for all of his clients to meet their individual home mortgage needs. He specializes in first-time buyer programs – including CALHFA first mortgage loans and down payment assistance. Gene understands that this is one of the most important decisions you will make. From start to finish, Gene is ready to help you purchase your home with just the right financing program to fit your individual needs.
An advocate of community involvement, he is an affiliate member of the Fresno Association of REALTORS, Fresno County Peace Officers Association, California Association of REALTORS. Gene also served honorably with the U.S. Air Force, 474th Combat Group, Tactical Air Command. Other recent accomplishments include Presidents award 2012 and 2013, Originators Club 2014.
Email: gene.obriensr@phmc.com Phone Number: (559) 779-8080
Loan Officer | NMLS ID 232947
RAUL P. CAMALIGAN, Skyline Home Loans, Downey, CA
Raul P Camaligan is an outlier since 1997 in the 1st time buyer business where he originated his 1st down payment assistance loan leveraging some of the non-profit organizations before discovering CHFA loans as it was originally known (pronounced Cha-Fuh), the parent of CalHFA.
Raul believes "The #1 obstacle of buyers has and will always be the lack of down payment and closing costs, thus, CalHFA is always the solution and the saving grace. Many 1st time buyers in the past have now upgraded, sold and or retained their homes and their state run program became their foundation in their wealth creation in real estate."
Raul is a perennial top producer in the Greater Los Angeles area and hails originally from Jersey City, New Jersey where He went to Jesuit St Peter's Preparatory High School and Rutgers University graduating with a Bachelor of Science in Business Administration, He was team captain lettering in Varsity Baseball as an All-Star/All-State Pitcher.
Email: raulc@skylinehomeloans.com Phone Number: (323) 228-2663
Loan Officer | NMLS ID 317770
The views, opinions and positions expressed by the Lending Heroes on this website are theirs alone, and do not necessarily reflect the views, opinions or positions of the California Housing Finance Agency, or any employee thereof. The California Housing Finance Agency makes no representations as to accuracy, completeness, or validity of any information presented by individual Lending Heroes and will not be liable for any errors, omissions, or any losses, injuries or damages arising from its display or use.