Underserved Communities
CalHFA will use our housing resources and expertise to Affirmatively Further Fair Housing in California. These efforts are driven by data that shows how Blacks, Latinos, Asian-American/Pacific Islanders, Native Americans and other groups continue to be under-represented when it comes to owning homes, and the historical context that has led to that under-representation.
California Homeownership
Black, Pacific Islander and Indigenous homeownership rates are the lowest among California ethnic groups. The Black homeownership rate, for instance, was 50.98% at its peak in 2004. The Black population was targeted specifically for sub-prime loans during the Great Recession, with the result that the Black homeownership rate has dropped by nearly 15% since 2004. Pacific Islander, Indigenous and Latino Californians have disproportionately low homeownership rates also.
2021 California Homeownership Rates, Selected Races and Ethnicities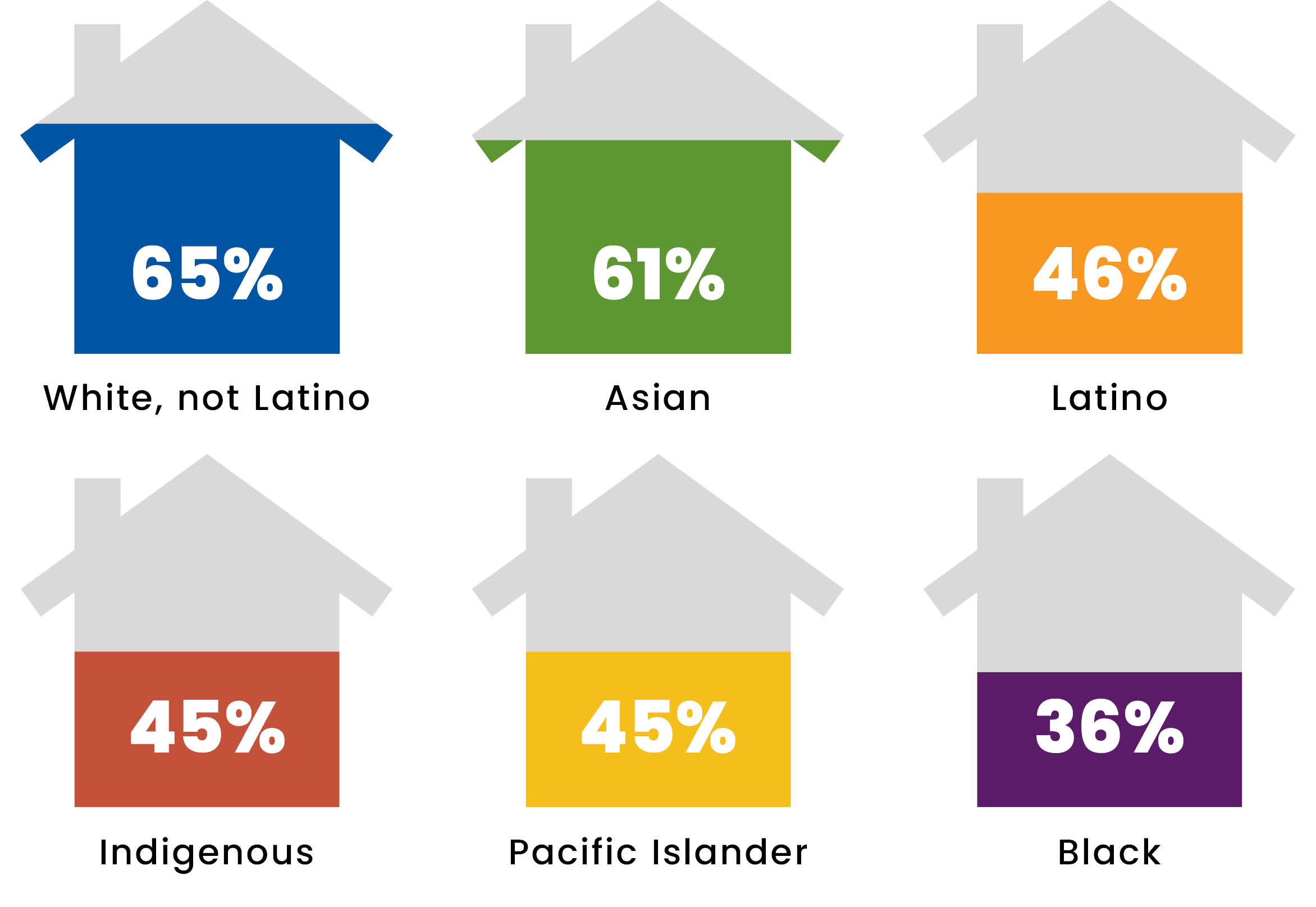 Source: U.S. Census

CalHFA's Efforts
We provide down payment and closing cost assistance through our Single Family Lending programs and finance the construction of lower-income units through our Multifamily loan programs. CalHFA is also launching a series of programs and initiatives to educate and provide resources that can help close the housing gap for underserved communities. These include Building Black Wealth and the National Mortgage Settlement Counseling programs, among others.
National Mortgage Settlement
National Mortgage Settlement Housing Counseling Program
The National Mortgage Settlement Housing Counseling Program allows California residents who are in danger of eviction or foreclosure to receive free, confidential counseling services from a network of HUD-certified housing counselors throughout the state.
Check out the National Mortgage Settlement Housing Counseling Program webpage.
Black Homeownership Initiative
The Black Homeownership Initiative: Buildling Black Wealth Campaign
This campaign is part of CalHFA's initiative to increase Black homeownership in California. Looking at homeownership through a lens of equity, Black homeownership is far behind. Our campaign provides educational materials, and connections to resources such as free housing counseling and down payment assistance to help close that gap.
Check out the Building Black Wealth webpage.